If you do not want specific lines to display on your market site page, you can hide them in Line Management on the exhibitor portal. You can hide lines for the market as a whole (Las Vegas or Atlanta), or by a specific market (ie., Atlanta Summer Market, Las Vegas October Market).
To Hide a Line or Lines:
1. Login to exhibitors.andmore.com.
2. Click the Your Digital Showroom menu and choose Lines.
3. Then click Manage Your Lines by Market.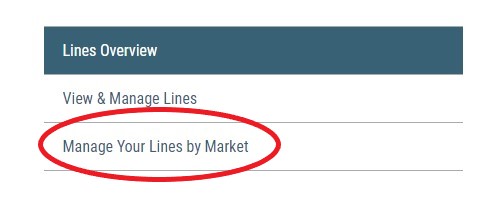 4. Click the Manage Lines link next to the appropriate Market. Note: We suggest managing lines by the main Market (in this case the Las Vegas Market), and not the individual market events (2022 Winter or 2022 Summer Market).

5. When, the list displays, check the box to the left of the Line name.

6. Then click Make Selected Inactive for All Las Vegas Market Markets. That will hide the line from showing on your market site page.

7. To unhide a line or lines, repeat the steps above but choose Make Selected Active for All Las Vegas Markets.
Have more questions? Email us at exhibitorportalsupport@andmore.com